After nearly two years of COVID-19 pandemic delay, an essential but ruthless part of the housing industry is slowly resuming. Although not yet back up to normal numbers, Foreclosures, Mortgage modification applications and delinquencies increased significantly during the end of the 2021 period. This even with most Lenders admitting publicly they have held off on taking foreclosure action during the Holiday season.
The Covid Mortgage honeymoon is over. Foreclosure Actions and Mortgage Modifications applications are on the rise!
Foreclosure actions in federally involved mortgages increased by 16% from the previous quarter, rising to 7,253 from 6,233, according to the Federal Housing Finance Agency, the conservator and regulator for Fannie Mae, Freddie Mac and the FHA.
Mortgage modifications, in which borrowers with long-term income reductions obtained more affordable loan terms, rose 11% to 17,930 from 16,134. Also, the number of shorter-term delinquencies (60 days or less) grew, rising by 5% to 218,894 from 207,034.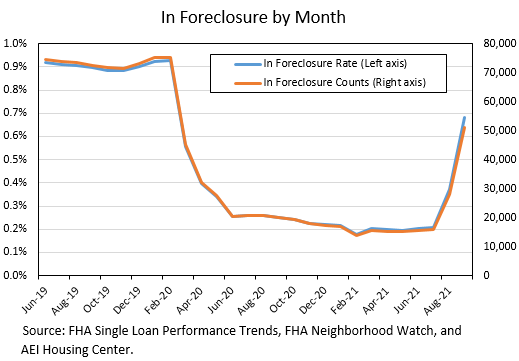 However, the more serious long term delinquency rate dropped to 1.55% from 1.99%, outperforming a 3.40% average for the mortgage market as a whole. This means homeowners in hardship are not being permitted to spend long periods behind on payments before being foreclosed. Years upon years of living in their homes with no payments made and no foreclosure taking place. Post 2020 pandemic, Lenders are much quicker in retaining Foreclosure Law firms to process Legal Foreclosure actions. This has a direct connection to the larger equity homeowners possess in 2021. Compared to the terrible equity positions most homes held from 2008 to 2018. When most homes were "upside down", or "under water". Terms used to describe homes where the mortgage debts on the home were higher than the actual property value. The meteoric rise in property values from 2019 to 2021 has been a blessing and curse for homeowners. A blessing for those with good credit and consistent income can refinance. Take cash out. or reduce interest rates and payments. A curse for homeowners in hardship. Higher property values mean more equity. More equity in properties translates to very motivated foreclosing lenders.
It is important to note, more serious long term delinquencies vary widely across the country. With figures in states like California and Texas being particularly high. The number of serious delinquent loans by state ranged from less than 1,000 in Idaho to nearly 54,000 in California. They may be due in part to the Legal requirements lenders must adhere to in different states. California and Texas posses much stricter laws governing the legal foreclosure process.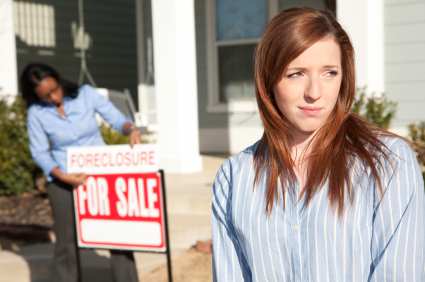 The majority of Foreclosure and Mortgage experts expect a waterfall of Foreclosure actions to commence once the nation moves past the Covid-19 crisis and the real estate industry returns to normal.
With the Federal Foreclosure prevention programs having expired in the fall of 2021, Lenders, Mortgage Servicers, and foreclosure law firms representing them have steadily increased staffing in the 4th quarter of 2021. It does not take a detective to see and realize that the banking side of the industry is preparing for a very large wave of foreclosures. The Mortgage Foreclosure industry is scaling up, preparing for 2022.
The Federal mandate on Foreclosure Moratoriums has blocked a key process in the large clock like system that is the Real Estate industry.
Foreclosure actions provide incentive for homeowners to stay on time with payments. The incentive being avoiding foreclosure and eviction. Foreclosures also provides a much needed checks and balances system to keep home values and prices in balance with the local markets. After 20 months of almost no foreclosure actions, the steady increase of property values across the country is not a coincidence. With no foreclosures auctions keeping a neighborhoods property valuations in check, values have no where else to go but up. And up they have gone. To historic levels. To the benefit of homeowners, Realtors, and Mortgage professionals brokering the hundreds of thousands of cash-out refinances that have occurred during the pandemic era. However this honeymoon period will soon be ending. And with millions of homeowners delinquent on their mortgages, and millions more keeping their budget afloat with federal financial aid such as PPP and EIDL loans, the next 12 months should be a very important and impactful period for the entire real estate industry.
If you are a homeowner who is behind on mortgage payments; depending on what type of mortgage you hold and what your hardship circumstances are, you may be eligible for a mortgage modification. Such modifications to your current mortgage can possibly lower your interest rate, lower your monthly payments, and place large delinquent amounts in the rear of the mortgage. However such mortgage modifications are not a right. Lenders and Mortgage servicers are not under any law or requirement to grant a mortgage modifications. Homeowners who are behind on payments, and wish to be reviewed for a mortgage modifications must prepare a very powerful legal case to be awarded such help. We at Homeowner Protection Alliance are a free mortgage help resource for homeowners suffering hardships. Our Advocates have helped over 10 thousand homeowners receive Foreclosure Assistance over the past 15 years since the 2007 Housing crash . The majority of these homeowners received Mortgage Modifications that helped them make their payments more affordable. Such mortgage modifications are vital in making unaffordable mortgage affordable to families in foreclosure. You can read or watch their true stories on our Rescued Homeowners Page. Or visit our Youtube page to watch the hundreds of videos homeowners made to tell their Mortgage Modification stories. You can also visit our Google and Facebook pages for thousands of more reviews & true stories.
If you are in need of mortgage or foreclosure help, take action and call us today at 866.211.1793.